✨EliteStar Season 3 💫
Share This Server
Discord Server
Statistics
Uptime
Vote(s)
2132
Rank
20
Score
3360
Favorited
2
Discussion(s)
0
Share This Server
Description
Welcome to EliteStar!
We are the #1 choice of many players for a fun factions/prison experience. We are a Minecraft Bedrock Edition server previously known as MythicStar. We have been around for two years already and we have a vast trajectory striving to give you the best experience you can find in a Minecraft server.
Our server is based on player feedback, so the opinion of the player matters a lot for us and for keeping up the server, just like our staff team will always be there to provide you support when needed and ensure the comfort you seek during your gameplay. We do really hope you enjoy our server to the fullest and that you can get the best out during your journey, that gives us the necessary hype to keep this server going on!
Our features
We are a factions/prison based server for iOS, Android and W10 essentially. We also offer other gamemodes such as survival and pvp for your total enjoyment!
We use our own custom plugins so we don't hold any dependencies on public sources. We also have fully custom built maps and we are one of the few servers to run on high end dedicated infrastructure, to bring you a lag-free experience. We are backed up by OVH's anti DDOS protection. This allows us to have the server up in uptimal conditions, with no lag and no downtimes.
You can find loads of custom features, among these you can find: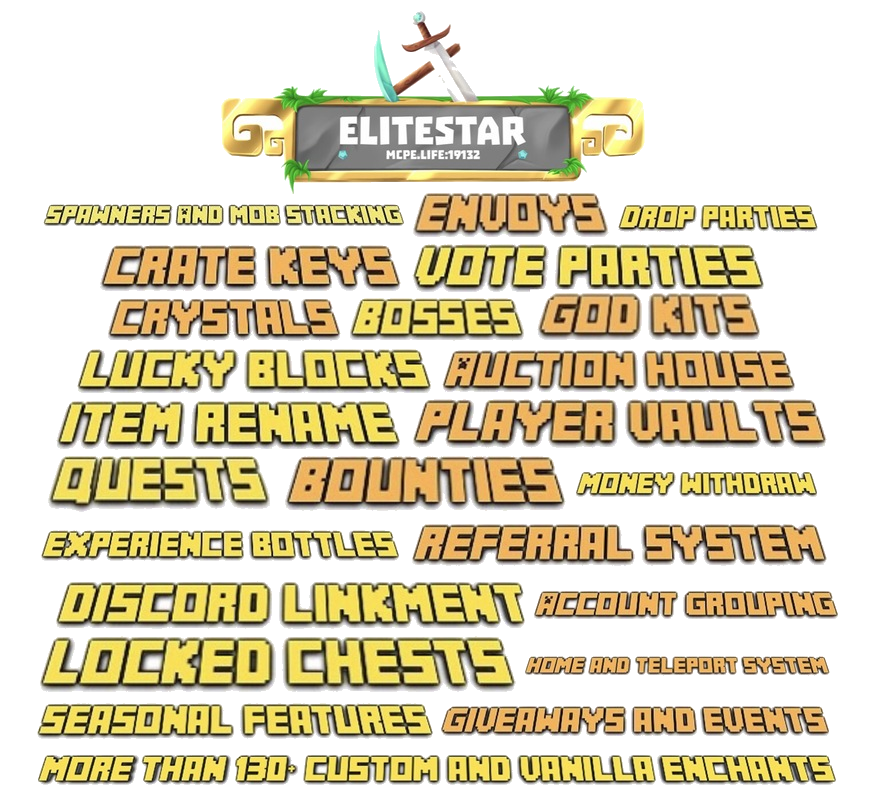 Quick Links
Vote for the server:
You can vote on server lists to help us maintain our server positioning and get more players!
https://mcpe.life/vote
https://mcpe.life/vote2
Discord invite:
Spread the word and advertise the server! You can also download our resource pack in the #welcome channel.
https://mcpe.life/discord]
(Or B5Tm7Zt directly)
Apply for staff:
Submit a staff application and check for a chance in our team.
https://mcpe.life/apply
Buycraft/Webstore:
Buy ranks and cosmetics to help keep up operational costs and server expenses, such as new builds, server hosting and other periodical payouts we have to make.
https://elitestar.buycraft.net/